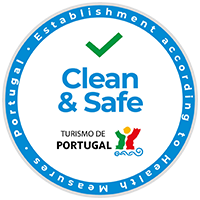 Férias em segurança
Queremos receber-vos com a garantia de que tudo fazemos para oferecer uma estadia tranquila, agradável e na observância das medidas de higiene e segurança definidas pela Direção Geral de Saúde e Turismo de Portugal, garantindo a segurança dos nossos hóspedes, parceiros e funcionários como principal prioridade.
Como resultado das medidas adotadas e do compromisso assumido, detemos o selo "Clean & Safe" atribuído pelo Turismo de Portugal, I.P.
Thus, Hotel Carvalho Araújo adopted hygiene and safety measures that promote common well-being and contribute to the control and mitigation of Covid19. To that end, we count on everyone, employees, partners and suppliers, and here is a summary of these measures:
Covid19 Procedures
Summary of procedures under Covid19
Reservations & Check-in and Check-out
At the time of booking, we ask you to complete the client form in full and to send it back in time, to facilitate the check-in process and the stay
The preferred communication must be via electronic means and / or telephone, and when in person with a mask and maintaining social distance
The check-in and check-out registration will take place electronically, giving preference to electronic payment at the time of booking or at check-in.
For Check-in and Check-out in person, at the reception, social distance and the use of a mask must be respected
Check-in - from 4 pm to allow ventilation after proper disinfection
Check-out until 12:00
Accommodation
Access to the hotel is through the reception, where there is hand sanitizer.
Hotel Carvalho Araújo's team is properly protected, making use of their personal protective equipment
Reinforcement of cleaning and disinfection procedures for all accommodation units and common spaces
Cleaning and disinfection
Reinforcement of cleaning and disinfection measures, materials and equipment in rooms and common spaces, with a special focus on points of high contact
Use of disinfectant products with proven effectiveness in eliminating the virus
Regular ventilation of the spaces in use
Unnecessary and / or difficult to disinfect contact elements have been removed from rooms and common spaces
Reinforced care in handling and washing clothes, namely sheets and towels
Cleaning and sanitizing is carried out by properly instructed employees and protected with specific personal protective equipment (mask, visor, gloves and disposable gown)
Guests may or may not choose the cleaning service during their stay
Hand sanitizer available at points of entry to the hotel.
Food and beverage services
Breakfast, included in the rate, is open from 8:30 am to 10:00 am and requires prior choice and appointment. Breakfast is served in the room, in the restaurant or on the terrace.
New menus more adapted to the current dynamics of the service
Reinforcement of HACCP Plan Measures (Analysis and Control of Critical Points)
Between each use, cleaning and disinfection of the areas used by guests in their meal is carried out
Information on activities and the Region
Informative support for experiences / activities can be obtained from the information available on the website
The information on the available experiences and activities is updated and can be consulted at the reception,
Tópicos de atividades /noticias podem ser consultadas no quadro de ardósia disponível na receção
Support for suspected COVID-19 cases
Our team is able to support our guests in case of emergency or suspicion
Hotel Carvalho Araújo's team
Training of all employees on new procedures
Mandatory daily change of uniforms and uniforms in the workplace
Employees have an individual safety kit that is mandatory to use throughout their working hours
As áreas de acesso exclusivo à equipa são limpas e desinfetadas regularmente
External suppliers and services
"Clean & Safe" suppliers are privileged
Suppliers have a prevention and contingency plan
Safety procedures applied in the handling and storage of the delivered goods